| | |
| --- | --- |
| Posted by Don DADA on June 8, 2014 at 3:45 PM | |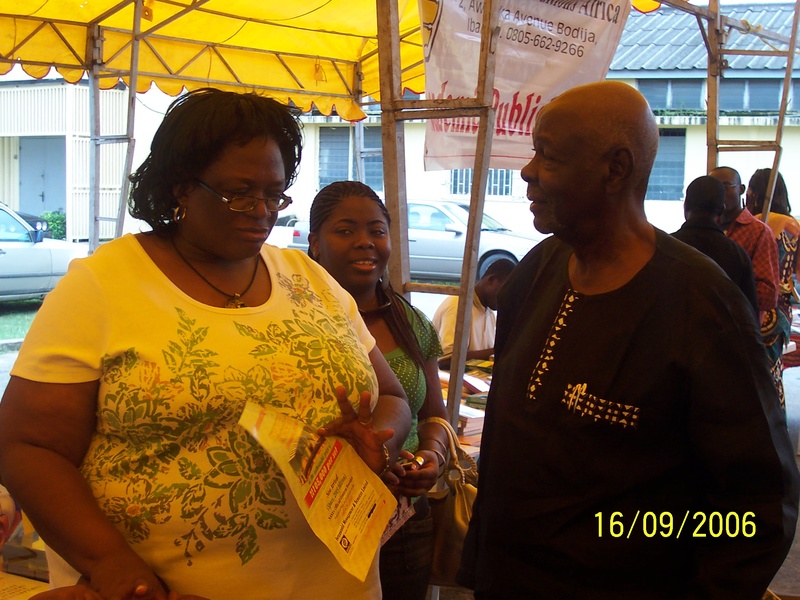 Photo: Amaka Igwe with Steve Rhodes at the 2006 Edition of the Lagos Book & Art Festival.
The Committee for Relevant Art (CORA) shares in the grief that has enveloped the Nigeria creative community since the passing away of Amaka Igwe, whose work will continue to influence and inspire the growth of Nigeria's Film and Television industries.
Mrs Igwe's popular television serial, Checkmate,which ran on national Television in the early nineties held viewers across the country spellbound; and her TV comedy series, Fuji House of Commotion, has continued to be a national staple till date. She affirmed her creative prowess and understanding of how to engage the Nigerian audience via a series of block buster movie productions – especially Violated and Rattlesnake -- and in no small way contributed to the emergence of the blossoming contemporary film industry now called Nollywood.
Amaka Igwe combined this creative streak with strong entrepreneurial acumen both of which have resulted in different enduring initiatives in the art, practice, training and dissemination of film and television arts in Nigeria. Institutions she created such as Top Radio FM station, Moving Movies Productions and the Amaka Igwe Studios have remained breeding grounds for young talents and skilled hands in TV and movie productions.
Amaka Igwe's passion for stimulating growth of the TV/Movie industry through her creative and entrepreneurial inventions is similar to CORA's vision of helping to translate Nigeria's teeming population into human capital as our contribution to the building of our nation. This shared vision and passion soon found CORA partnering with BOBTV, a bi-annual film and television expo she produced together with her husband Charles Igwe, in staging two editions of the African Colloquium on Film and Television at BOB TV in Abuja in 2006 and 2008.
Beyond BOB TV, Amaka Igwe was a frequent presence at CORA's flagship annual event, the Lagos Book & Art Festival. At one of these events, worried why the event struggled in getting the teeming audience it deserved, Amaka offered the support of her radio station, Top Radio, for future editions of the festival. Top Radio has been a strong supporter of the festival ever since.